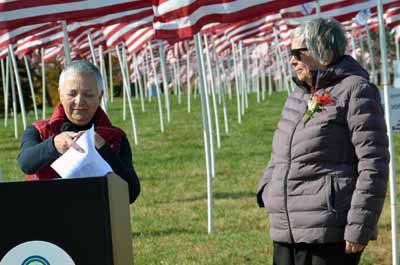 On Sunday at the Flags for Heroes event, our first Hero's Scholarship was announced in honor of our own hero Evelyn Hayes. Each year we will present a $2,000 scholarship for a young person to attend school and study in the career of a Hero.
Evelyn was selected as our first Hero for a scholarship to be presented due to her outstanding service to our country. She joined the U.S. Army Reserve Corps in 1979 with her first assignment to a Station Hospital in West Hartford, CT, followed by a faculty position at USAR School and various leadership roles in training and administration. She also served at Supreme Headquarters Allied Power Europe, Fort Jackson, and Walter Reed Hospital. She retired with 23 years of military service with the rank of Colonel. She then went on to a second full career of teaching in the Nursing Program at UD. She is OUR HERO of 2023!
Robin Broomall presented to Evelyn!